This article on Vidyarambh Muhurat 2022 by AstroSage will give you a detailed account of the auspicious Vidyarambh Muhurat 2022 dates and the most suitable time to perform the Vidyarambh Ceremony in 2022.
Talk To Best Astrologers On Call & Know In Detail About Vidyarambh Muhurat in 2022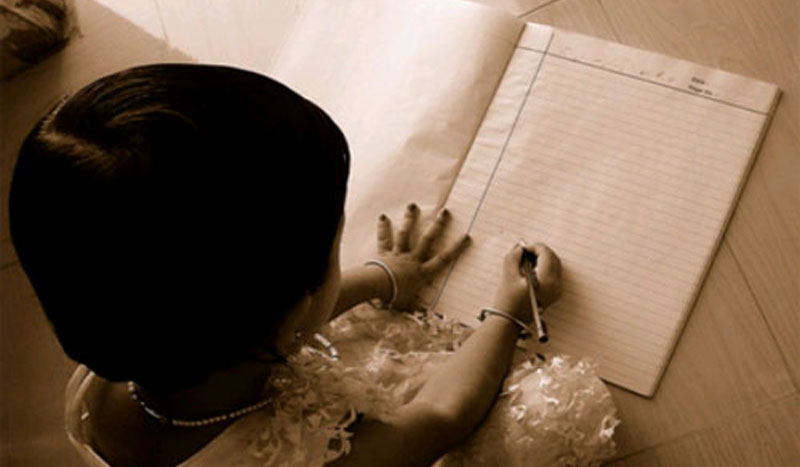 To read in English click here - Vidyarambh Muhurat 2023
In the Hindu Religion, the Vidyarambh Sanskar is considered one of the most prominent Sanskars. The term Vidyarambh is a combination of two Sanskrit words- Vidya, which means education, and Arambh, which means commencement. So, just like the same suggests, Vidyarambh means a ritual that marks the commencement of a child's preliminary education. This ritual is mostly observed once the child has reached the age of years when he/ she is deemed fit to begin their educational journey.
हिंदी में पढ़ें - विद्यारम्भ मुहूर्त 2022
Vidyarambh Muhurat 2022 Dates
Without further ado, let's check out the specific dates that are auspicious for the Vidyarambh Ceremony in 2022.
Vidyarambh Muhurat 2022: January
DATE
DAY
DURATION OF THE MUHURAT
14 JANUARY
FRIDAY
From 14:29 Till 20:01
19 JANUARY
WEDNESDAY
From 07:15 Till 19:33
20 JANUARY
THURSDAY
From 07:14 Till 08:24
23 JANUARY
SUNDAY
From 07:14 Till 19:25
24 JANUARY
MONDAY
From 07:13 Till 08:44
27 JANUARY
THURSDAY
From 08:51 Till 15:29
Vidyarambh Muhurat 2022: February
DATE
DAY
DURATION OF THE MUHURAT
02 FEBRUARY
WEDNESDAY
From 08:31 Till 18:46
03 FEBRUARY
THURSDAY
From 10:37 Till 18:42
06 FEBRUARY
SUNDAY
From 07:07 Till 18:30
10 FEBRUARY
THURSDAY
From 11:08 Till 18:15
13 FEBRUARY
SUNDAY
From 07:02 Till 18:42
18 FEBRUARY
FRIDAY
From 06:57 Till 18:30
21 FEBRUARY
MONDAY
From 06:55 Till 19:49
25 FEBRUARY
FRIDAY
From 12:58 Till 19:33
27 FEBRUARY
SUNDAY
From 17:38 Till 18:58
Vidyarambh Muhurat 2022: March
DATE
DAY
DURATION OF THE MUHURAT
04 MARCH
FRIDAY
From 06:44 Till 19:05
13 MARCH
SUNDAY
From 06:34 Till 18:30
14 MARCH
MONDAY
From 12:06 Till 20:42
Vidyarambh Muhurat 2022: April
DATE
DAY
DURATION OF THE MUHURAT
21 APRIL
THURSDAY
From 05:50 Till 20:33
22 APRIL
FRIDAY
From 05:49 Till 08:43
25 APRIL
MONDAY
From 05:46 Till 14:13
27 APRIL
WEDNESDAY
From 05:44 Till 17:36
Vidyarambh Muhurat 2022: May
DATE
DAY
DURATION OF THE MUHURAT
04 MAY
WEDNESDAY
From 05:38 Till 07:33
05 MAY
THURSDAY
From 10:01 Till 19:37
06 MAY
FRIDAY
From 05:37 Till 19:06
11 MAY
WEDNESDAY
From 05:33 Till 19:14
12 MAY
THURSDAY
From 05:33 Till 19:10
13 MAY
FRIDAY
From 05:32 Till 17:27
18 MAY
WEDNESDAY
From 08:09 Till 13:18
20 MAY
FRIDAY
From 05:28 Till 20:57
25 MAY
WEDNESDAY
From 10:33 Till 20:37
26 MAY
THURSDAY
From 05:25 Till 20:33
27 MAY
FRIDAY
From 05:25 Till 11:48
Vidyarambh Muhurat 2022: June
DATE
DAY
DURATION OF THE MUHURAT
01 JUNE
WEDNESDAY
From 05:24 Till 20:10
02 JUNE
THURSDAY
From 05:24 Till 20:06
05 JUNE
SUNDAY
From 07:55 Till 19:54
10 JUNE
FRIDAY
From 05:23 Till 18:42
15 JUNE
WEDNESDAY
From 13:32 Till 21:19
16 JUNE
THURSDAY
From 05:23 Till 19:56
19 JUNE
SUNDAY
From 05:24 Till 21:03
Luck in your favour? Raj Yoga Report reveals it all!
Why Is Vidyarambh Sanskar 2022 Significant In Your Child's Life?
The most powerful tool of human empowerment is Education. Education has helped millions of people in evolving and accomplishing great things in life. Even in the larger picture, education has saved mankind from disasters and other ruthless things.
Education helps in enhancing the progress of an individual and also makes the world a better place to live. It helps us stand up against the wrong and spread awareness about the right. But to achieve all this, it is requisite to embark on your educational journey at a young age. It is said that a child's brain develops the most from the day he/ she is born and till the age of 5 years more than any other age in their life. This is why; Vidyarambh Ceremony is performed when a child enters the fifth year of his life.
A child has zero knowledge about anything at a young age. They acquire the knowledge given to them by their elders or what they learn from their experiences or surroundings. It is very important to be supportive of your child in their initial years, not just physically but also on a divine and cosmic level.
In the Hindu religion, no important work is preceded without the blessings of God, not even education. So for Vidyarambh Ceremony, people seek blessings for their children from Goddess Saraswati, the goddess of knowledge and wisdom. Holy Sages have been performing the ritual of Vidyarambh Sanskar from ancient times to induce a child with procedural knowledge so that a child becomes phenomenally and academically powerful.
A Vidyarambh Ceremony performed with all the Vedic rituals results in a child who not only excels in academics but also has a better focus and clarity in life. It also protects a child from the influence of any evil that might create a hindrance in the path towards academic success.
Elements To Consider For 2022 Vidyarambh Muhurat
ZODIAC SIGNS- Sagittarius, Virgo, Leo, Gemini, and Taurus are the signs that are termed favourable while performing Vidyarambh Ceremony in 2022.
DAYS- The most favourable days of the week to perform the Vidyarambh Sanskar during the auspicious Vidyarambh Muhurat in 2022 are Sunday, Monday, Thursday, and Friday.
NAKSHATRAS- The auspicious Nakshatras for a Vidyarambh Ceremony are- Purva Ashadha, Uttara Ashadha, Chitra, Swati, Abhijit, Dhanishta, Shravan, Purva Bhadrapada, Uttara Bhadrapada, Ashwini, Mrigashira, Rohini, Ardra, Punarvasu, Pushya, Ashlesha, Purva Phalguni, Hasta, Mool, Revati, Hasta, Mool, Revati, and Shatabhisha.
TITHIS- The most suitable muhurats to perform the Vidyarambh ceremony are- The Tritiya Tithi of the Shukla Paksha of Chaitra-Vaisakha, Tritiya Tithi of Shukla Paksha of Phalgun month, and Saptami tithi of Magha Shukla Paksha.
Advanced Health Report Will Put An End On Your Health Troubles!
Rituals To Follow During The Vidyarambh Ceremony 2022
Certain rituals and rites should be followed during the Vidyarambh ceremony in 2022-
On the day of the Vidyarambh Sanskar 2022, make sure that are the family members wake up early in the morning and take a holy bath.
Any auspicious Hindu activity should commence with the recitation of Ganesh Vandana, and the Vidyarambh ceremony 2022 is no different. Make sure that you start the ceremony by reciting Ganesh Vandana.
Where Lord Ganesh represents knowledge, Goddess Saraswati represents wisdom and knowledge, so it is important to have the idols or pictures of both of them during the ceremony.
Pay tribute to your Guru, as a teacher or Guru is considered the most important in line after the almighty. If your Guru is not present at the ceremony, you can use coconut instead for worshipping.
In the end, offer prayers by evoking Ved Mantras to academic equipment and tools, like a pen, notebook, paper, slate, etc.
We hope that the Vidyarambh Muhurat 2022 dates prove to be helpful to you. Thank you for sticking by us!
Buy Gemstones
Best quality gemstones with assurance of AstroSage.com
Buy Yantras
Take advantage of Yantra with assurance of AstroSage.com
Buy Feng Shui
Bring Good Luck to your Place with Feng Shui.from AstroSage.com
Buy Rudraksh
Best quality Rudraksh with assurance of AstroSage.com