Planet Saturn In Astrology
Saturn, known as Shani or Sanaischara, is a slow moving planet. Planets in Astrology play vital role throughout the life of humans. Planet Saturn in Astrology is a planet of Justice. It gives you marks as per your Karma or deeds. Astronomically, it is an outermost planet. It is surrounded by a three concentric rings. It appears like a blue ball with 3 yellow rings. These are separate rings and have black empty space in between any two rings. It has nine Moons. It passes through each zodiac sign within 2.5 years. It is visible through unaided eyes. Hence on an average, it takes 29.5 years to get around the Sun.
Planet Saturn
Hindu Mythology about Planet Saturn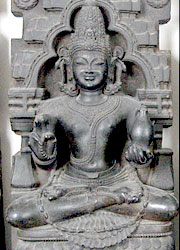 According to Hindu Mythology, planet Saturn is also called "Yama" as it is the chief governor of "Longevity". It basically carries forward the duty of God Shiva or Rudra. It is a cold, icy planet.
It is considered as the father of two significators of evil- Gulika and Mandi. It is also known as by the names of Neelan and Mandhan. He is also known as "Lame". The story behind it is that when Indrajit, son of Ravana was about to be born, Saturn stretched its leg, from the 11th house to the 12th house so that it can fill the child with pride and bring about a great fall eventually. Ravana tried to keep all planets in the 11th house at the time of birth of his son. It is believed that planets in 11th house do good to the person concerned. Eleventh house itself is auspicious to fulfill the desire of the person and realization of one's ambition. Saturn in 11th is very good but is bad in 12th house. Saturn appealed to all the Devas that he alone can sanction what they want, with least effort. So Saturn stretched his legs to the 12th house. However, when Ravana was pre informed about the child birth, he wanted to assure whether all the planets have occupied 11th house or not. Ravan noted rash and foolhardy action of Saturn stretching his legs 11th to 12th house. Suddenly he cut off the leg of Saturn. Hence Saturn is called "Lame". Hereby, Saturn became a slow moving planet. Saturn is the Son of Sun. They both are diametrically opposed to each other.
In Western Astrology, Saturn is the son of Uranus. He married Rhea. When he understood that children born to him would govern the world, he destroyed them. But Jupiter represents Survival. The mother gave him some protection when Jupiter was born so that Saturn couldn't reach to that.
Nature of Planet Saturn
Saturn is a barren, binding, cold, constant, dry, defensive, hard, nervous and secretive planet. It rules over the signs Capricorn and Aquarius in the Zodiac. It gets exalted in Libra at 20 degrees and debilitated in Aries at 20 degrees. Saturn is considered very auspicious for the people born under signs owned by Venus, whereas Saturn is evil to ascendant born people governed by Mercury.
According to Uttara Kalamrita, Saturn is proved to be beneficial when it sits in its own sign or when it occupies the signs of Jupiter or when it is exalted. It rules over Pushya, Anuradha and Uttara Bhadrapada Nakshatras. It may cause delay in any work. It can deny. It may give you disappointments. Disharmony, dispute, difficulty, despondency, dejection and differences are the outcome of an evil Saturn.
What does Saturn signify in Vedic Astrology?
Saturn represents "strict teacher" in native's birth chart. It rules over tenth and eleventh houses in Kaal Purush Kundali in Vedic Astrology and is a significator of sixth, eighth, tenth and twelfth houses. Sixth house is house of debt, enemy and diseases, if Saturn is placed in 6th house it bestows the native to compete challenges or beat competitions with less efforts. Eighth house is house of longevity and sudden inheritance, if Saturn is placed in this house, it will bestow you with lots of inheritance and longevity. Tenth house is house of karma or profession. So Saturn does good in this Bhava as it is a planet which believes in Karma or deeds. Twelfth house is house of spirituality, jail, asylums, hospitals etc. Here, Jupiter and Saturn both do good. It will direct to the native towards spiritual path. Therefore, we can say that Saturn holds these positions in a much better way in horoscope. Let's understand below what it signifies:
Body Parts: It rules over Osseous system-bone, hair and growth, ears, teeth, pneumogastric nerve.

Physical appearance: Saturn natives are thin-built, bony and pale or of dark complexion. The face is either melancholic or the person will appear to be much older than his actual age. The eyes will be deep-set. The look may appear as he stares frequently. Piercing eyes with profuse growth of dark hair on the eyebrows are the distinguishing features of a Saturnian. In general, it may make a deaf too. Native may request the people to repeat what they say and he will hold his hands near the ears, suggesting to the speaker to speak loudly. The limbs will be long and thin.

Diseases: If Saturn and Moon are forming unfavourable aspects, it can show obstruction of lymphatic circulation, retention of waste in the body, nutrition, membranes getting hardened, pyorrhoea ec. Smallpox is caused by adverse aspect among saturn. If Mercury afflicted by Saturn produces fear complex appearing like a amd person, ear trouble, deafness, chills, cold, asthma, pulmonary consumption, defective, speech, paralysis, Vitamin B.
Characteristics of Planet Saturn
If Saturn is placed positively in your birth chart, then it bestows you with everything you have desire for. It will be very beneficial for you in terms of health, wealth and prosperity. You will be judgemental and truth speaker. Saturn is the chief governor for longevity. Let's see below how Saturn confers good, medium and bad results:
Beneficial Saturn: Plodding, persevering, patiently, working, prudence, frugality, economy, saving, endurance, industry, thrift, power to keep secrets, stability, self-control, sense of duty etc, are attributed to a beneficial Saturn. A person will be true, reliable, honest, sincere, faithful, chaste etc. It aids for concentration, meditation, prayers etc.

Afflicted Saturn: Afflicted or malefic Saturn will cause delay, disappoint, disharmony, dispute, difficulty, despondency, dejection and differences. Lazy, lethargic, idle persons are born under the influence of malefic Saturn.
What are the professions generally denoted by planet Saturn?
Being a cold and malefic planet, natives may get employed as dealers for lead, iron, black, articles, hair, chowrie, wool, leather, quarry, metals, mine ores and the products mentioned above. Professional streams also depend on the PAC (Position-Aspect-Conjunction) connection with other influencing planets. In short, we can say that the nature of Planet Saturn in profession or career varies with the combination of Saturn with other planets. Here, we have listed below few professional fields for your better understanding:
Politics: It indicates construction of huge buildings mostly for scientific research, laws concerning labour problems, disagreement and difference of opinion among the members of parliament, death or overthrow of one in power, danger to the prestige of nation, prohibition, control, rationing, emergency powers, famine, earthquake, unnecessary and unavoidable wastage or public money, such unsuccessful attempts as are made by Research Departments, Geological Survey.

Products: Lead, Antimony, Kerosene, Petrol, Petroleum products, Coal, Mine, Mine ores, Hume pipes, cement, leather, hides, skin, wood etc.

Places: It indicates obscure valleys, hills, caves, dens, forests, very old buildings, temples, saloon, leather, tanning, factory, bone meal factory etc.

Plants and Herbs: Leguminous seeds, sesame, hemp, rye, black, grains, barley, plantain etc.
The day ruled by Saturn is "Saturday", one may expect better results on this day itself if he is running with the Mahadasha of "Saturn". The precious gemstone for planet Saturn is "Blue Sapphire". All Blue stones are governed by Saturn. Lucky colour is Blue and lucky number is 8, 17, 26, 35, 44, 53 etc.
Hence planet Saturn is very prominent in terms of Astrology as well as Astronomy. It is important planet to judge our deeds and provide results based on our karma.
Saturn in various houses according to Vedic Astrology
Saturn in various zodiac signs according to Vedic Astrology
Saturn in various houses according to Lal Kitab
Remedies for Saturn
Saturn
Planets in Astrology
Buy Gemstones
Best quality gemstones with assurance of AstroSage.com
Buy Yantras
Take advantage of Yantra with assurance of AstroSage.com
Buy Feng Shui
Bring Good Luck to your Place with Feng Shui.from AstroSage.com
Buy Rudraksh
Best quality Rudraksh with assurance of AstroSage.com